GREEN HYDROGEN, THE CLEAN ENERGY THAT WILL CHANGE THE WORLD
Green hydrogen is the fuel that we've been waiting for. Since it is produced using renewable energy sources, green hydrogen does not emit greenhouse gases. It is a fuel that is safe to transport: it can be taken wherever it's needed. It can also be stored, offering an energy supply that is not jeopardised by adverse weather conditions, unlike other technologies. All of these characteristics of hydrogen make it key to energy decarbonisation and the fight against climate change, one of the goals set by the United Nations in its Sustainable Development Goals (SDGs) at the 2015 United Nations Climate Change Conference.
HOW IS GREEN HYDROGEN OBTAINED?
Green hydrogen is produced using a technology known as electrolysis. The process involves passing an electric current through water using a device known as an electrolyser. This separates the hydrogen from the oxygen. If the energy used for this process comes from renewable sources, the output is known as green hydrogen or renewable hydrogen. If the energy comes from burning fossil fuels, the result is called grey hydrogen.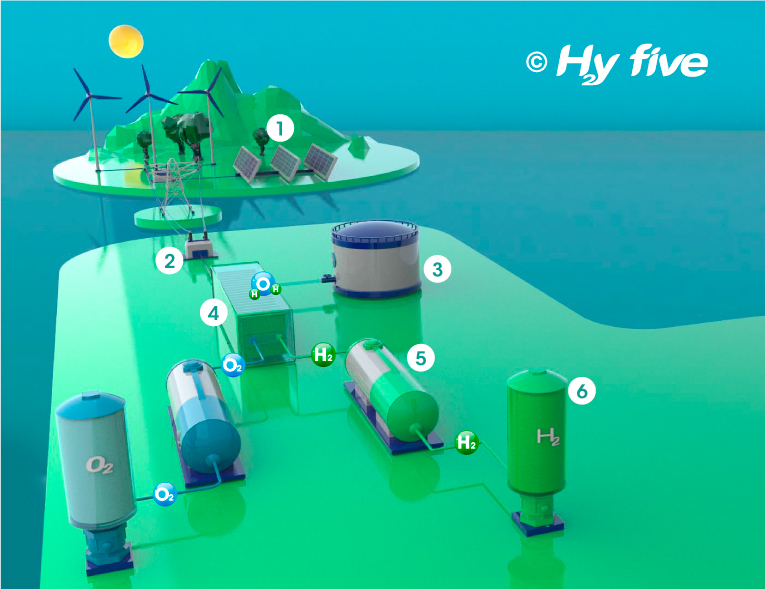 Renewable energy sources that do not produce carbon dioxide.
Electrolyser to separate the hydrogen and oxygen molecules contained in water.
Compressors to reduce the volume of the hydrogen and oxygen produced.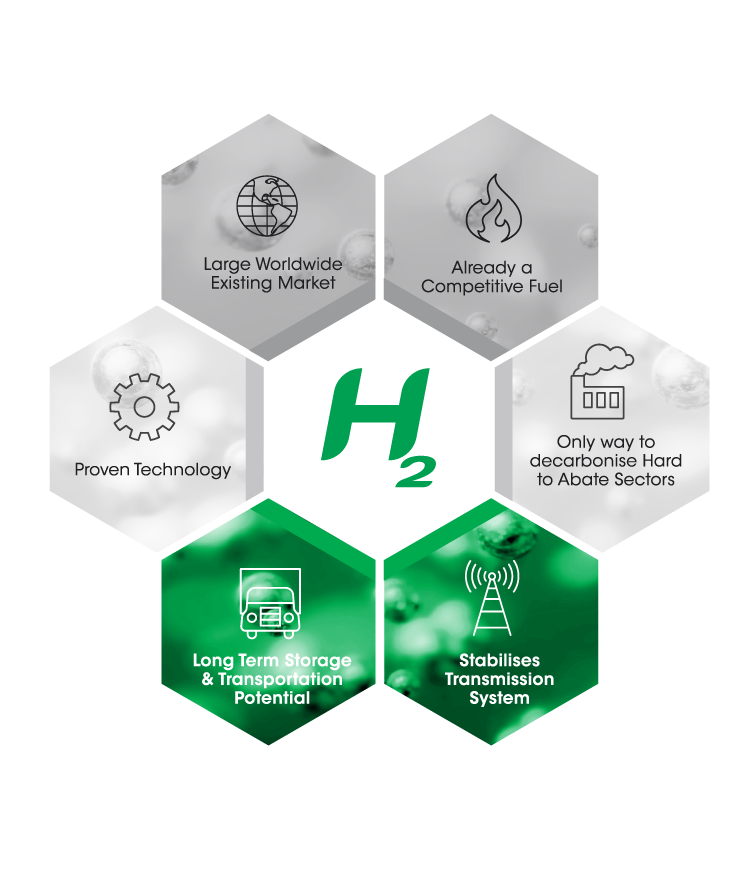 GREEN HYDROGEN IS THE MISSING PIECE OF THE DECARBONISATION PUZZLE
Paris agreement greenhouse gas targets will not be reached without green hydrogen.
50% of the carbon abatement needed for a two-degree consistent pathway will come from hydrogen.
GREEN HYDROGEN IS ALREADY COMPETITIVE FOR MANY DIFFERENT APPLICATIONS
Green hydrogen is much more than just hydrogen. Many existing sources of energy can be substituted by combining captured CO2 and green hydrogen.
Oil Refining
Ammonia Production
Methanol Production
Other Chemical Processes
Steel Production
Mobility: Pilot Transportation Projects
New Hydrogen market in the medium term
Gas network blending
Back up generation
Mobility: Forklifts, buses, taxis, other vehicles
New Hydrogen market in the medium-long term
High-temperature industry, furnaces, boilers…
Services to the grid
High value chemicals, synfuels
Mobility: ships, airplanes
Mobility: Pilot Transportation Projects
Mobility: Forklifts, buses, taxis, other services
High-temperature Industry, Furnaces, Boilers…
High value chemicals, synfuels
Mobility: ships, airplanes
As the hydrogen industry scales-up over the next decade, green hydrogen will become competitive for more and more end-uses reaching its full potential. Already today, the current size of potential green hydrogen market is at c. €45bn/year considering diesel substitution at competitive prices. This is especially true in the transportation sector, where autonomy, heavy weight, high vehicle usage or charging speed are key: long-range trucks, heavy trucks, taxi fleets, commercial van fleets, forklifts, heavy-duty mobility etc.